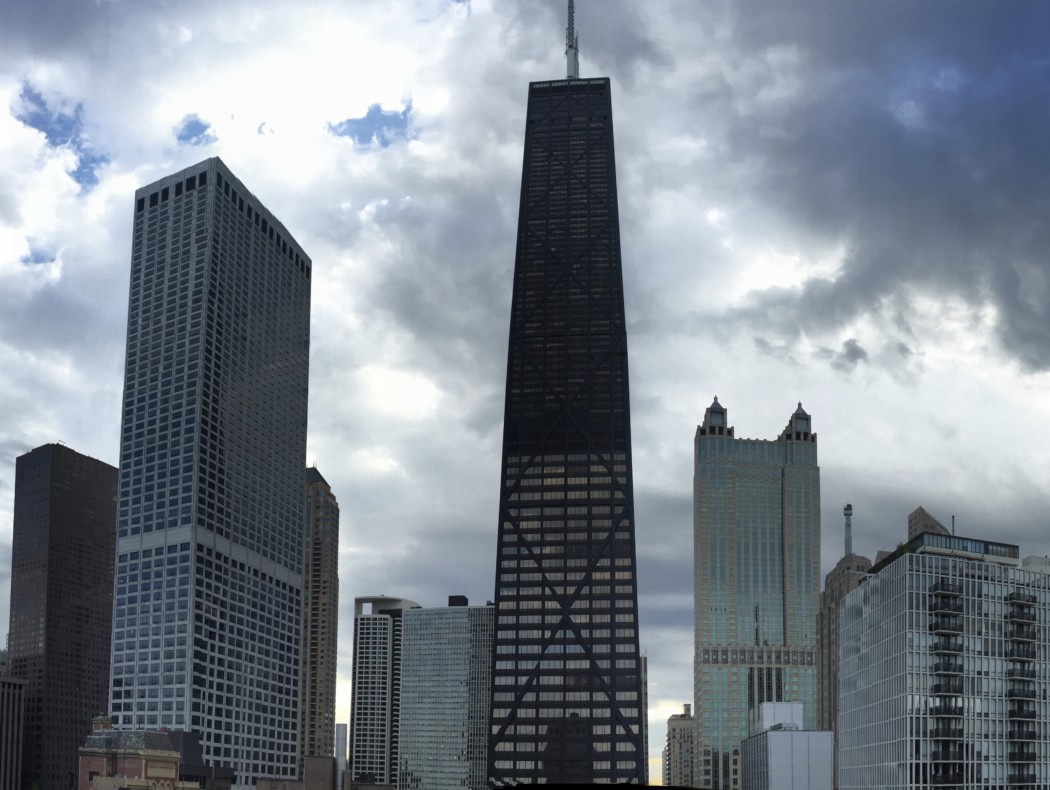 This week marks 3 years in Chicago – it feels like it's been forever since I've been here, and at the same time also feels like it's been 5 minutes. I moved here just a week after my college graduation, and I've grown so much since then. This city, the experiences I've had here, and the people I've met have really had an impact on my identity as an adult and helped me to truly "find myself". To kind of commemorate (for lack of a better word) the 3 year mark, I wanted to talk about the top 10 things I've learned and experienced over the past few years.
Push outside your comfort zone – This is really a theme for me in the last three years, and something I was downright horrible at prior to moving. Those who know me know that I am obsessed with my family – like, really obsessed. If I lived in Kansas City, I would probably still be living with my parents just because I want to be with them all the time. There was no way I was ever going to move, I could barely stand college in Arkansas (which was only a 3 hour drive) – and I came home at least once a month. In the fall of my senior year, I was applying for jobs only in Kansas City and had settled on coming back here. I had offers, but nothing that really excited me. On New Years Eve (after a few glasses of wine), I started crying and told my mom that I just was not happy with what my life was looking like if I moved back. I felt like the only relationships I had there were with my family, and there was nothing else there that was truly making me happy besides them. I realized I really couldn't depend on them as my sole source of happiness – it's not healthy. So, I decided to move to Chicago. I knew it was the right move – everything fell into place. I found an apartment I loved, a job I loved, and everything went as planned. The only hiccup was that I literally knew no one – not one person in the city that I would consider anything more than an acquaintance. I remember when my parents finally left, and I was sitting on my mattress in my very empty apartment, I kind of went in to shock – like, okay, you're here now. You did it. Now what? I felt so lost without my security blanket – no friends, no family. I'm not great at putting myself out there, but I started doing it – because I had to, if I wanted any semblance of a life there. I did so many loner activities, and really made an effort to meet as many people as I could – and it worked. I made incredible friends, I met Dayon – none of that would have happened had I not forced myself out of my bubble. My first year was truly a year of growing pains, kind of stumbling my way through, trying to figure it all out. I absolutely love my life now, and I wouldn't have most of the things in it had I not pushed myself.
2. Complacency is your own worst enemy – This is something that may not be true for everyone, but I have definitely found it to be true for me. Prior to "real life" adulthood, there was always something to work for and look forward to built into your life – high school graduation, first internships, college graduation. Those years of my life kind of pushed and created goals and new experiences for me. Once I moved, there was no more built-in "next step" – I had to figure out how to create my own map of what was next. If I don't have a goal or aspiration I am working towards, I can easily slip into kind of a bad place mentally – it takes a toll on my self esteem and sense of purpose, whether I realize it or not. It's so easy to get stuck in a rut and do the same thing day in and day out. For me, a particular example was my job. I love my job, but I had been traveling back and forth to D.C. for two years and worked on the same client. I also love my role, but the engineer aspect of my personality is only one part of me – and that was fulfilled, but I felt somewhat listless in general. I needed a creative outlet, which is why I started this blog – but, it was something I had been telling my boyfriend I wanted to do for over a year and half before I did anything about it. I got complacent in my life – and I wasn't being pushed to do something different. I had to make that call, and I think it's something I have to continue to do. Evaluate, challenge myself, and refuse to get complacent.
3. Family is everything – I absolutely love my friends (I will get to them later!), but nothing has made me appreciate my family more than being away from them. I am lucky that I have a job where I travel a lot, so a quick weekend trip home is something I'm able to do and I am so grateful. I really cherish all of those trips home – my family are the only people who have seen me at every single stage of my life and know really everything about me, and that's something I've come to appreciate as I've moved somewhere new where everyone really only knows me from age 22 on. There's also something special about family loyalty that's unlike anything else – mine especially, they are truly there for me for absolutely anything, and I for them. True love and selflessness is my dad buying a last minute plane ticket a month after I moved to come help me hang a mirror, because I called crying that I was an independent woman and an engineer and how can I not hang my own mirror?! I couldn't do 95% of the things I've done without my family – they're my rock, and I appreciate them more the older I get.
4. Comparison is the thief of joy – This is really two-fold for me. It applies to two really important things I have learned – avoid comparison to what others are doing, and avoid comparison of your life to what you think you "should" be doing. The first really relates to social media – our world has really become a facade of real life on the internet. Am I always eating a macaron in a coffee shop on a Saturday morning, tapping away on my gold Macbook with a designer purse? Nope. Usually, I'm at home with dirty hair, trying to throw on clothes and sunglasses to go get a bagel with extra cream cheese. But, which image do I post on Instagram? I realized that I definitely don't always portray my "real" life – I portray my life through rose-colored glasses. If I am knowingly doing that, wouldn't a lot of other people be doing the same? I've made an effort to stop comparing myself to everything and everyone I see – whether it's a realistic expectation or not, it's not healthy and it's not productive. The only comparison that's worth anything is comparing yourself to who you were yesterday – am I better person than I was before, and am I making an effort to continue to improve? The other piece of this is the comparison to what you think you "should" be doing. I am 25 years old, and I live in downtown Chicago. I should probably be going out, enjoying the nightlife and partying while I have very few responsibilities. But, I hate going out – like, I really hate it. I get tired, I hate crowds, I hate noise, and I would really rather have a glass of wine and watch Dateline. This has always made me feel awkward and very un-cool – why can't I just enjoy going out like most other people I know? Will starting a blog make me look self-involved, weird, maybe even annoying? Don't only somewhat narcissistic people start something like that? I don't know, and really, I shouldn't care. Just like I shouldn't care if my version of a Friday night might be considered "lame" to someone else. There is no such thing as normal – normal is only what you make it.
5. Quality over quantity – Going to school in the south and being in a sorority tends to result in really large friend groups – which is great, the more the merrier, but not something I always did well with. Big groups overwhelm me, and even in college I was perpetually busy with school and research, so trying to maintain lots of friendships and social activities was tough for me. I ended up spending the majority of my time with only a handful of very close friends, and I've only kept in close touch with that same group. At the time, it was somewhat disheartening – I felt like I only had a few really good friends. In hindsight, for me, it's a blessing. I wish I was better at being one of those girls who has a million friends and hangs out with people all the time – I have always envied those girls, but, it just isn't one of my strengths. Over the past few years, I've come to appreciate the fact that although I may not have 25 best friends, I have 6-7 incredible friends that I am fiercely loyal to and can talk to about absolutely anything. Friends that understand my unorthodox work schedule, my quirks, and my aversion to large social settings – and I am so grateful.
6. Relationships make a city a home – Along the same lines as the point before, but quality friendships and relationships are the only way to truly connect to a place. You can spend every weekend on Oak St. Beach, and go to all the best restaurants and wine bars in the city, but if you aren't doing any of that with people that you love, then there's no substance to that enjoyment. I spent most of college with a few people that I did nearly everything with – two friends in particular, Jordan and Amelia, I lived with for three years. Jordan and I also had nearly every class together. I had built in best friends for most hours of the day, no matter what I was doing. My best college memories are the nothing memories – like the time Amelia put me on Craigslist in a Chicago zip code for free Komodo Dragons, and I got hundreds of voicemails and calls all day asking to come pick them up (still hate you for that), or the time I forced Jordan to go to Taco Bell with me at 3 a.m. and we got pulled over and I had my wet hair in a towel on my head, because the cops assumed no sober person would be in that state going to get a burrito (Tragically, we were just really hungry. No good excuse). I moved to a city with endless things to do, but had to get to the point where I had people to enjoy them with. Meeting Dayon and my fabulous gal pals really formed my attachment to Chicago – yes, I love downtown and everything it has to offer, but I would not still be there right now if I had not met my people. They truly "make" Chicago for me, and I've come to really appreciate the value of close friendships and not take them for granted.
7. There is more to life than work – This is a recent epiphany for me in the last year. Those who know me well know I am a workaholic and a perfectionist – and I always have been. When I was in college, I thought there would be absolutely nothing worse than losing my 4.0 or not being the top of my class. When I started work, I thought there would be nothing worse than not being the best employee and having a stellar work reputation. The need for perfection and the image of being "the hardest worker" kind of defined me and my goals – not to say those things aren't important, but they should never be the end-all, be-all. You don't get a medal at the end of your life saying "Good for you! You spent more time at work than anyone else and were so much more accomplished. Extra kudos to you!" – because that's just not how life works. It's been somewhat of a tumultuous year for my family – some good things, some not so good. In the midst of all that, I truly realized what's most important to me. I love my job, and I love being successful – but I love my family and the ability to be there for each other during good times and bad way more than any of that. I've taken somewhat of a step back at work – I still do my very best, but I'm not killing myself to get the next promotion as soon as I can and working a ridiculous number of extra hours. I'd rather spend that time with the people I love, doing things that I love. It's been relieving and really gratifying to take some of the pressure off myself, and it's something I will continue to work on and improve.
8. Create your own opportunities – This is one that really kickstarted my move to Chicago – and that's in reference to the job I have now. The company I work for did not recruit at my school, so I was really struggling to get a way in. I submitted my application electronically, but I knew it was sitting in a virtual pile somewhere, gathering virtual dust. So, I got aggressive – I went on LinkedIn, found managers and senior managers that specialized in my area of research and study, and Googled the email nomenclature for my company (e.g. ours used to be firstname.lastname@company.com). I found names from LinkedIn, figured out what their work email would be, and cold-emailed them my resume and high-level bullet points about my accomplishments and why I would be a good fit. I literally creeped on people, and sent random emails asking them to refer me or help me get some attention on my resume. Looking back, I probably looked nuts – but, my company is really not good at looking anywhere outside their target schools, so I couldn't figure out any other way to get my foot in the door. Lo and behold, a senior manager in New York pushed my resume through, they flew me out to interview for a few hours, and the next day I had a job offer. The interview was the easiest part – the real task was the opportunity to even get there. That experience really gave me the confidence to go for things I wanted, even if an opportunity wasn't handed to me on a silver platter. It's something I utilize a lot in my professional life – you never know until you ask!
9. Travel well, and travel often – This has been so important to me in the past couple of years. As much as I love "things" (like clothes, duh) – the best things in life aren't really things, they're experiences. Dayon and I are on the same page with this, and agreed this year that instead of doing Christmas gifts, we would spend the money on plane tickets and plan a vacation. This is how our Paris trip came about, and it was better than any purse or new pair of sunglasses he could have gotten me. I will hold that trip and those memories dear to my heart for a long time – and that's so much more gratifying than a material item. I've also seen so many things happen to people who are close to me that have made trips like this impossible for them – that's another reason traveling has become a resolution of sorts for me. You don't know your window of opportunity for experiences like that – things can change in a split second. Go to Harry Potter World, book that trip to the Dominican – there's no guarantee your circumstances will allow you to go again.
10. Don't forget where you came from – I spent the past 9 points talking about all the reasons I've grown and changed in the last three years, and everything I've learned, but the most important thing I've learned is to not forget where I came from – meaning, let all my past experiences and relationships enhance my life today, and not to just let them become a distant memory. When I moved, I started over, in essence. I knew no one there, and could really start from scratch. It's easy to get caught up in that, if you let yourself – but there's somewhat of a dishonesty in that. There's something tempting about the ability to reinvent yourself and try to be your new, best self – but really, how can you be your best self if you don't acknowledge any of your other "selves" that you were in the past? I try to think of the mistakes and decisions I've made, the people I've met, and the things I've done as lessons or tools to make a better choice tomorrow, or to put more effort in an area I've seen myself fail at in the past.
Apologies for such a long post – but, I think it was important for me to write. I think it was important for me personally to really take the time to document it, and evaluate who I've become in the last few years and what's contributed to that. In some ways, I don't even recognize the Katy who moved here 3 years ago – and I think that's a really good thing, as long as the growth is positive and I realize the catalysts behind it. I also think it was important to be transparent – my goal for this blog has never been just pretty clothes and where to get great sales – my goal is to be relatable. My favorite blogs to read are the blogs where women are truly honest about their day to day lives, and share what makes them who they are – I find that I relate to so many thing that they talk about, and get a lot of insight and comfort from that.
If you are one of the handful of people who read my blog – thanks for your support and for reading this post! I appreciate you, and the fact that you spent time to read my ramblings. Love you all, and hope everyone has a wonderful rest of your week!