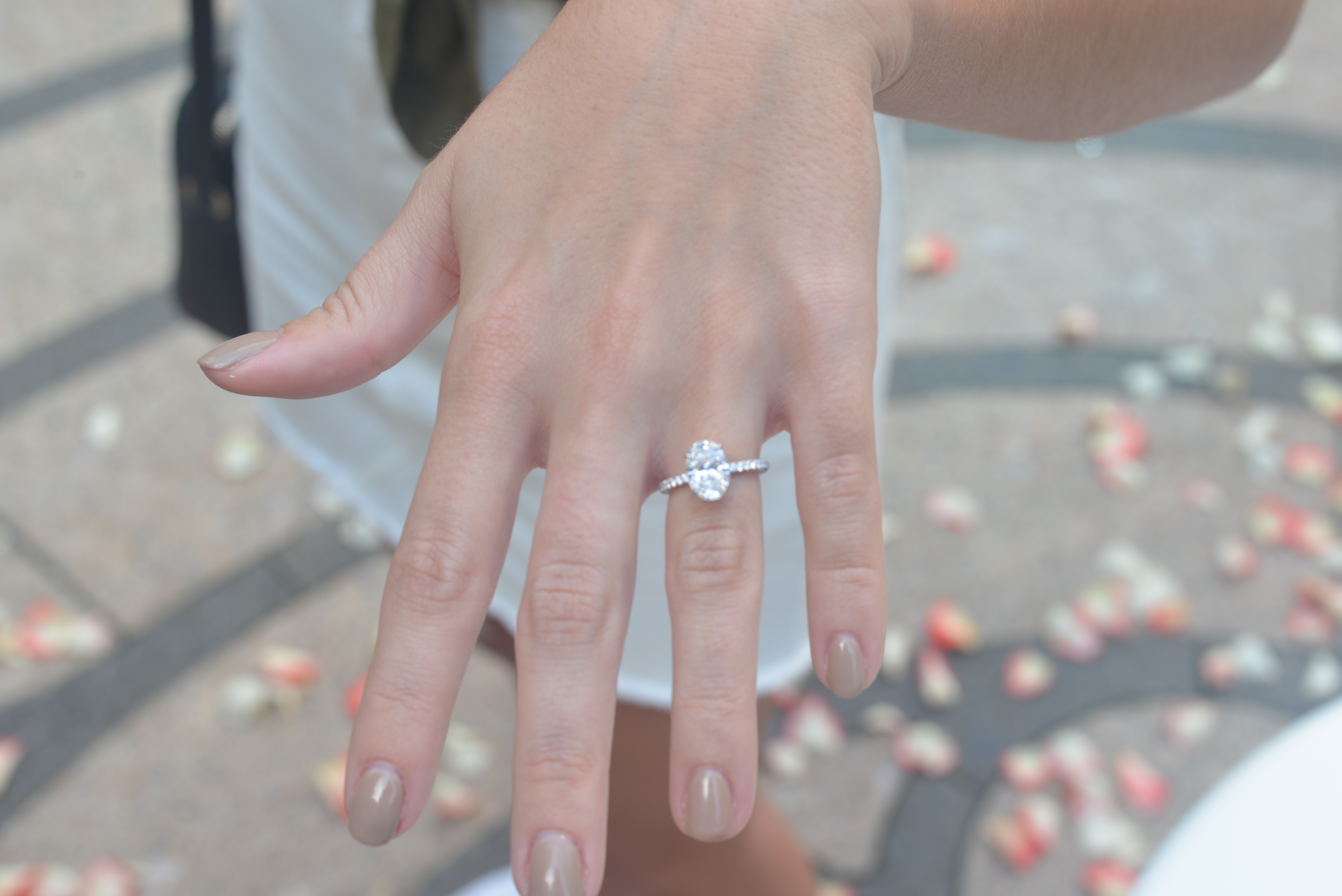 Well, surprise (to me at least) – Dayon and I got engaged on Saturday!  I am taking today off to enjoy time with my family and continue to soak it all in, but I think now it is finally starting to feel real! I am absolutely over the moon and so, so happy – there's no one else I'd want to spend the rest of my life with, and I can't wait to get this ball rolling!
If you read my blog at all last week, you'll notice I made a point of mentioning that I had a very relaxing weekend coming up, and one of my first weekends in town in about a month or so. I had zero clue this was coming – Dayon totally caught me by surprise! In my mind, I had pretty much determined that it would be coming around September or October – so July wasn't even on my radar. I'm thinking Dayon knew that too, which is part of why he was able to completely surprise me!
We had a really great day on Saturday, lunch on a patio and some shopping. Nothing really stood out as too strange to me – except for the fact that Dayon literally could not stop laughing all day. We would be walking down the street and he would just start cracking up – and I was like what in the world is so funny?! He would just be like oh nothing, just having a great day. I figured he was just pretty slap happy – he can get a little goofy, haha! In the afternoon, I ended up asleep on the couch (Saturday afternoon routine for me) – but Dayon was somehow able to drag me out of my slumber to go meet his friends for drinks. Hal (Dayon's friend) had been blowing up my phone all day saying that he wanted all our friends to hang out today, and we better be there at 4:00 for drinks and to hang out or else he was going to be very unhappy with us. I was really not in the mood for day drinking, but Dayon kept telling me how much Hal wanted to see everyone, and it would just be for a little bit, etc. So, I rolled off the couch and out the door – I had not showered since the day before and I had bedhead from my cat nap. I was not looking glamorous AT all. We started walking to this bar, and on the way there, we passed this little park/plaza area we always walk by called the J. Pepper Family Plaza. Dayon and I have this running inside joke about the place – on one of our first brunch dates, we had coffee and were walking around and took a picture at this little plaza area of us. Ever since then, every time we would walk by it, Dayon would go "Look, the J. Pepper Plaza, where we fell in love!" and I would get so annoyed, and be like "You're ridiculous, we literally just took a random picture there once." Dayon obviously enjoyed how annoyed I would get, so he did it literally every time we walked past, which happens often considering he moved right down the street. So, on Saturday when we walked by, he did his usual speech about the plaza and I'm like yes, I know, we fell in love, let's go – but then all of a sudden I see this little table and chairs set up with champagne and rose petals, and immediately I figured out what was happening.
Disclaimer here: I think I remember what all happened, but I was talking and rambling incessantly during the next 3 minutes so it's all kind of a blur. Once I realized he was proposing I just started repeatedly saying "This is happening today? Now? It's July it's happening right now? This is happening? Today?" like a total nut job – but I literally could not stop talking and asking him if this was legitimately happening. Dayon's friend Ben was there snapping some pictures, so I have some shots of the setup and my total shock during the whole thing – and Dayon is laughing and smiling the whole time. I will admit – I had told Dayon in the past that I hated photographers at engagements – it just felt too staged and impersonal for me, and I really didn't want that. However, my mom told him to ignore me and just have a friend there getting some pictures – and I am so glad he did. They weren't professional, it wasn't a Pinterest-worthy photo shoot, but we have documented memories of it all and I absolutely love that we have them. It was just perfect, low-key, and sentimental to us – everything I wanted.
Immediately after, I start repeatedly calling and FaceTiming my mom – who was not answering. I started getting really mad because I knew Dayon must have told her it was happening today, and what else could she be doing besides staring at her phone waiting for me to call with the news?! (Yes, I realize I was being a total psycho monster here). I was so upset – I just wanted to talk to my mom! Then all of a sudden Dayon goes "Kitty, calm down – she's right there" and I turned around and my mom and dad were running down the sidewalk, with Nick, Lizzie, David, and baby Vincent in tow. I totally lost it at this point – and then, I saw my best friend Jordan running down the sidewalk in her heels and the meltdown really escalated. Jordan is my person – I was so over the moon that she had surprised me and made the trip in. Jordan and her mom have a lot going on in their lives right now, so for them to make the trip up there was a big deal – I never in a million years expected they would be there. It made the moment even more special – my whole family, the baby, Jordan, everyone I hold nearest and dearest was there just minutes after to celebrate with us. Dayon thought of everything – I couldn't have asked for a more perfect proposal.
Afterwards, we all hung out for a bit, I gushed over my ring, and then we went to an engagement party Dayon had planned and his whole family, my cousin Angela, and all of our friends were there waiting for us. It was so incredible – I have never felt so much love and support in my whole life. My cheeks hurt by the end of the night from just smiling and laughing and hugging everyone – it was truly an amazing, blessed day, filled with all the people I love most. Dayon was absolutely incredible – he went out of his way to make it the most special day for me, and I am so lucky that I get to marry him.
On Sunday the party continued at an absolutely beautiful dinner at his parent's house – seriously, his mom is incredible. She is the ultimate hostess, and threw the most gorgeous engagement dinner. His sister planned it with her and she has the most amazing taste – everything was beautiful, and it was just an amazing dinner celebrating with our blended families. I think my favorite part of the night was watching Dayon's nephew Patrick interact with baby Vincent – my heart just melted, it was so sweet. I love how well our families mix and how much they all love each other too – I know we are truly blessed to be able to all be together and celebrate as one big family.
Sorry for the overload/spamming of all of these pictures – but more than anything, I am so happy to document this day and how amazing it was! I guess you all will be seeing some wedding content from me in the next year – and I can't wait!
Thank you to everyone who has reached out and congratulated us – we love every single one of you and are so incredibly blessed! Let the planning begin!
xx