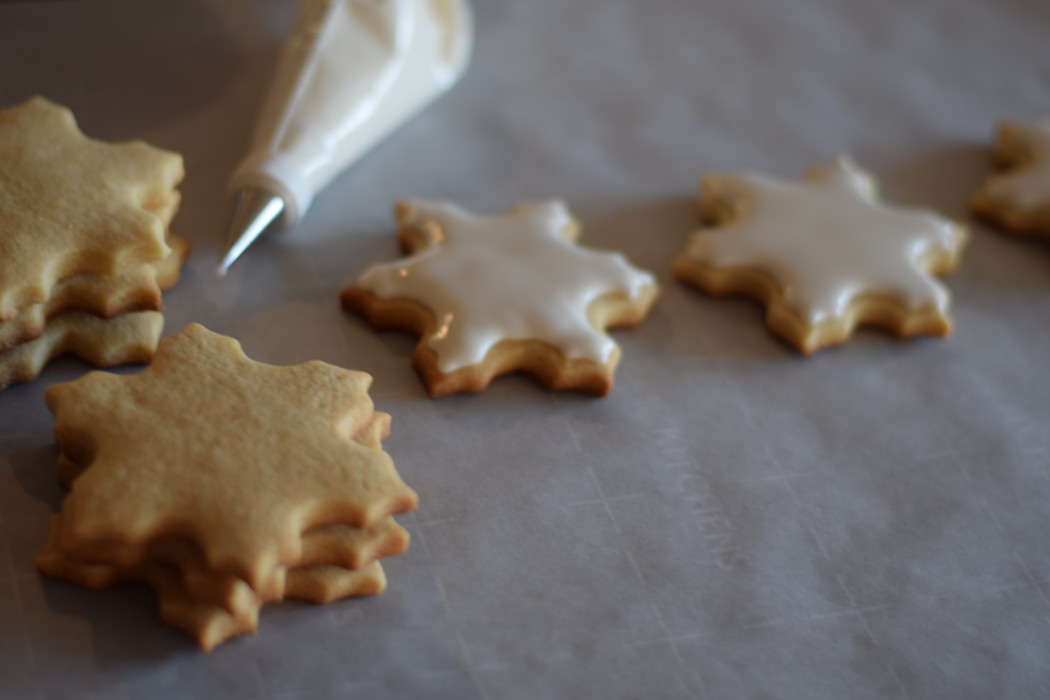 Hey everyone! I am super excited for this post – baking is a really fun hobby of mine, and I've been wanting to highlight the tips and tricks I've learned for a while, but I didn't know if anyone was interested in it! I took an Instagram poll and got a pretty hefty majority of Yes votes – so here we are. I might do some more detailed posts down the road, but today I want to kind of highlight what made me get into baking/decorating, my recipes, the tools I use, and any other random tricks I've learned! It was also a resolution of mine to work on more lifestyle/non-fashion posts this year, so I'm trying to hit on that this month. If baking isn't your jam – I'll be back tomorrow with my usual posts!
Background
I used to work at a cookie bakery in high school, and I absolutely loved it! Once I had "worked up the ranks" (if you could call it that, ha) – I learned to bake and decorate at the store each morning. We never did rolled sugar cookies like I do now, but the cookie decorating there is what sparked my interest! Granted, it was a lot different – we used pre-made icing, and it wasn't royal icing. I would ice cookies with a spatula, and then use the icing bags for details. It wasn't nearly as pretty and clean as royal icing is, and the consistency is totally different, but I learned my way around the decorating tools enough to make me want to learn how to do more detailed versions!
Recipes
For rolled sugar cookies, I use the recipe SweetAmbs sells, but with a few minor tweaks to the flavor. I personally love this recipe, but any rolled sugar cookie recipe you have or find online will work – there's no real special formula in my opinion. For royal icing, this is what I use:
8 cups of confectioner's sugar (I usually just use an entire bag, I don't typically measure out 8 cups)
5/8 cups of liquid egg whites (meringue powder can also be used, but I prefer the taste of egg whites)
2 teaspoons of vanilla extract
A pinch of salt
When you put all of that together, it looks like just a pile of sugar – but, I promise once you start mixing it turns into a stiff, beautiful batch of icing! The recipe above gives you a solid base of what I call "stiff" consistency – I usually only use this for details on cookies. Add one teaspoon at a time of water to get your icing to a "flood" consistency – this is what you want if you're trying to get the pretty, glass-like base on your cookies (see some pictures below). The best way to tell that it's thin enough (but not too thin) is to dip a spoon in the bowl, and let the icing drizzle back in. If the drizzles smooth out back into the original icing in about 15 seconds, you should be good! It takes quite a bit of trial and error to figure out the consistencies of icings – feel free to email me with questions, but the best way to figure it out is to just play around with it!
Tools
I have a lot of decorating stuff – partly because I "need" it, and partly because it's just really fun. Wilton is my go-to brand – I buy sometimes directly from there, but usually I try to get everything online at Amazon, or run to Sur La Table in a pinch. Your local Michaels or Williams Sonoma will have some of this stuff too, but I think Amazon is the easiest way to go!
Here's the list of my basic must-haves:
Disposable icing bags
Couplers
Wilton #3 Icing Tip – I use these for flooding
Wilton #2 Icing Tip – I use these for detail work
Wilton Gel Food Color – these have much more pigment than standard food coloring
Ann Clark Cutters – any brand will work, but the size + durability of these are my favorite

If you're looking to get into some of the really fancy stuff – gold pigments, royal icing flowers, watercolor, etc. shoot me a message or an email and I will tell you all of my favorite tools for those!
Tips + Tricks
Split, wrap in saran wrap, and refrigerate dough for at least an hour before rolling and cutting.
Use gel food color as opposed to standard food coloring.
To fill your icing bags, use a tall glass and roll the top of the bag around the edges of the glass to create a filter-type shape.
After flooding your cookies with the first icing base, let them dry for 6-12 hours before adding details.
Pre-make your dough – it can last in the freezer for up to 2 weeks.
Allow at least 2 days for the full process of baking and decorating.
Get a cookie scribe – this will help you remove air bubbles and fix any small accidents with your icing and piping.
Start small – get some simple shapes and work on just flooding. A good base and pretty flood takes some practice to get down, so don't try and learn everything at once.
Buy multiples of your most-used tips – this way, you don't have to continually wash out tips for new colors as you're decorating.
Use parchment paper for baking – this avoids any issues with cooking spray modifying the consistency of your dough, and cookies never get stuck to the pan this way. It also makes cleaning a lot easier!
And lastly – be patient! Decorating is super tedious, and each step takes a good amount of time. There's nothing worse than being done flooding your cookies, and then doing details too quickly before your cookies are fully dried and ruining all your hard work. The patience rule also applies to them looking decent – the learning curve can be a little steep, but once you get your technique down it gets much easier!
Examples
Here's just a few shots of some of the sets I did last year – I have so, so much to learn and improve on, but I have so much fun doing it so I really want to try and do more decorating this year!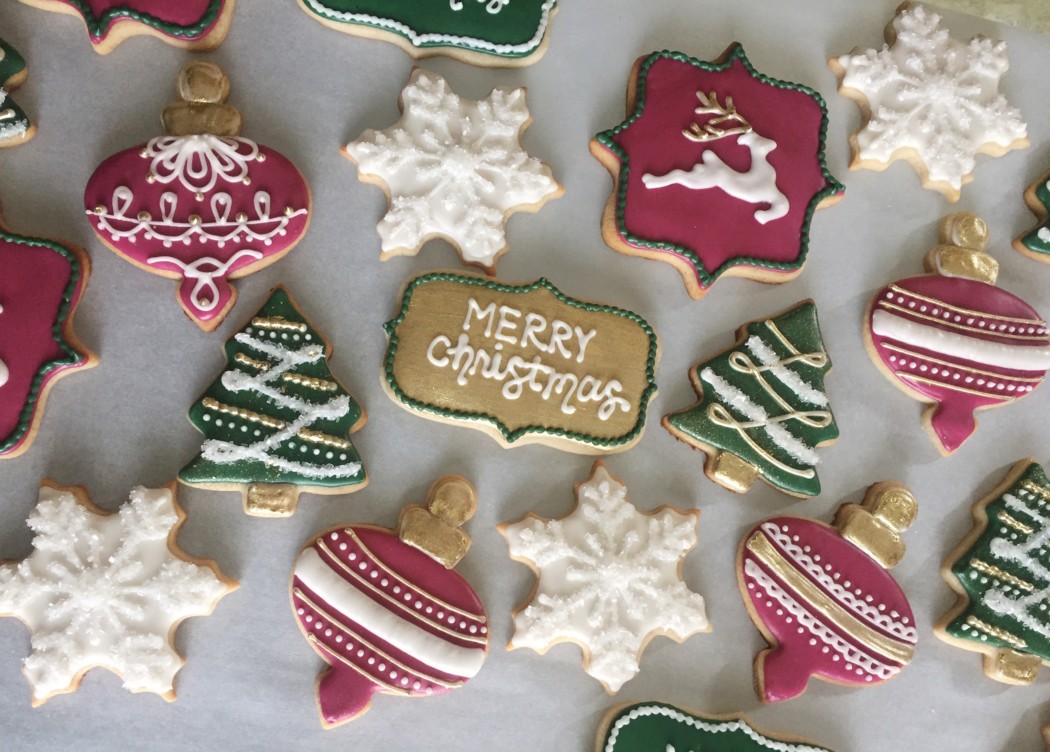 Christmas Set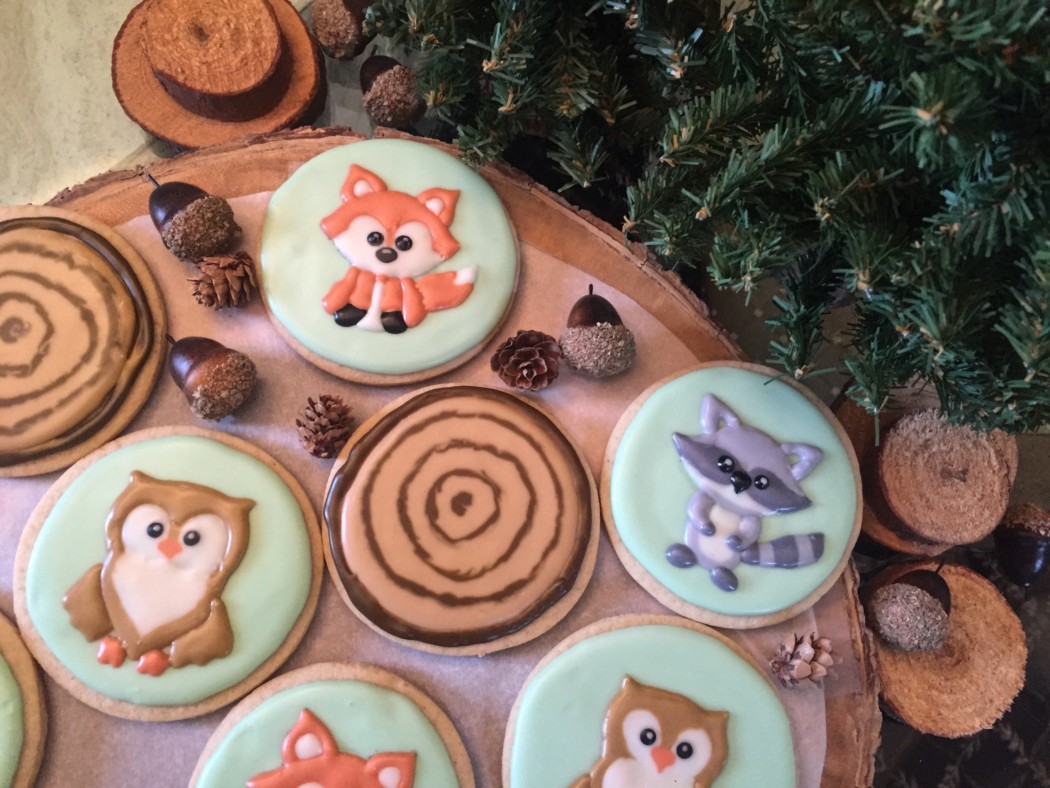 Forest Animals Baby Shower Set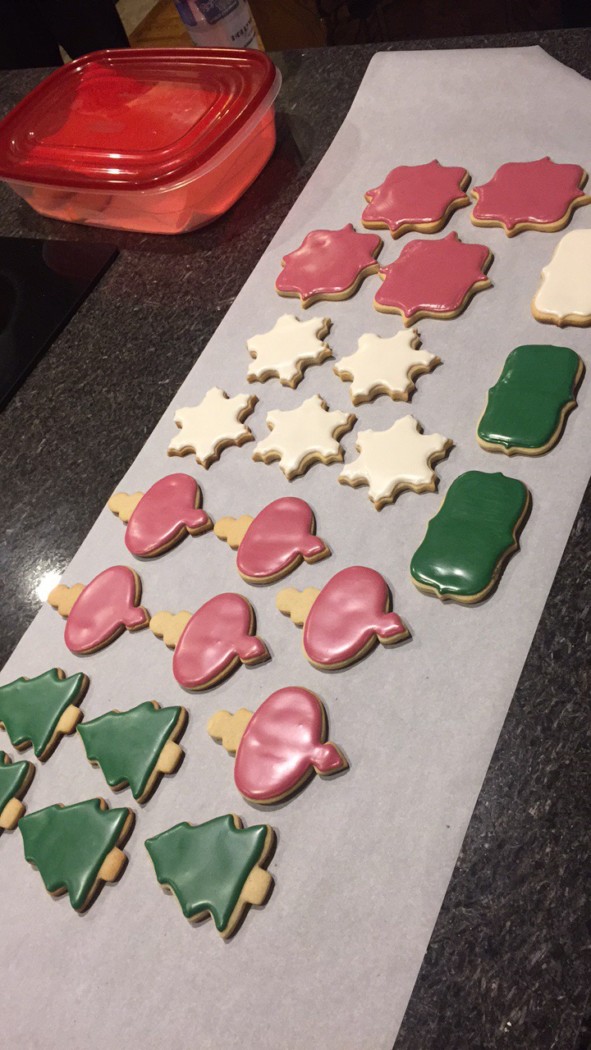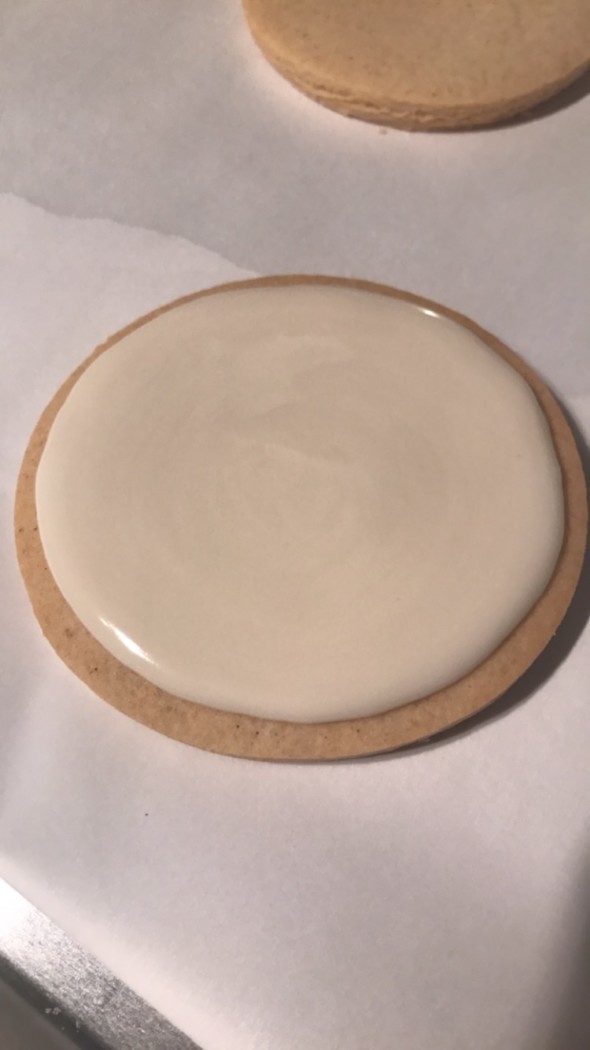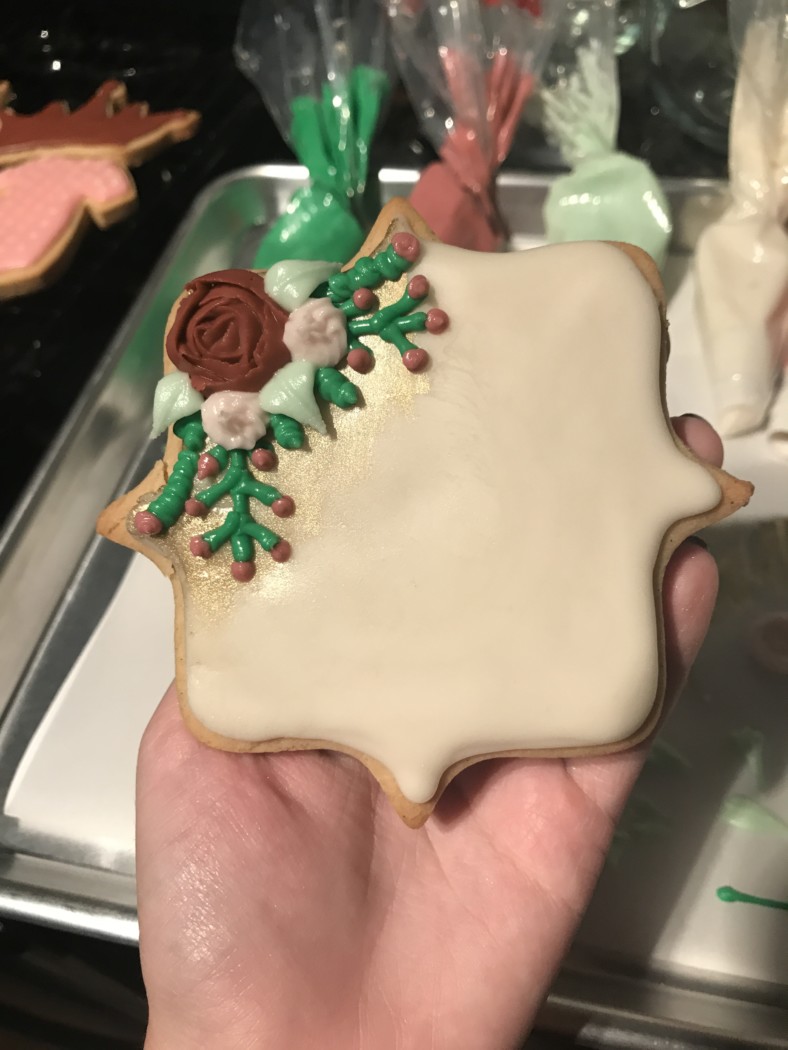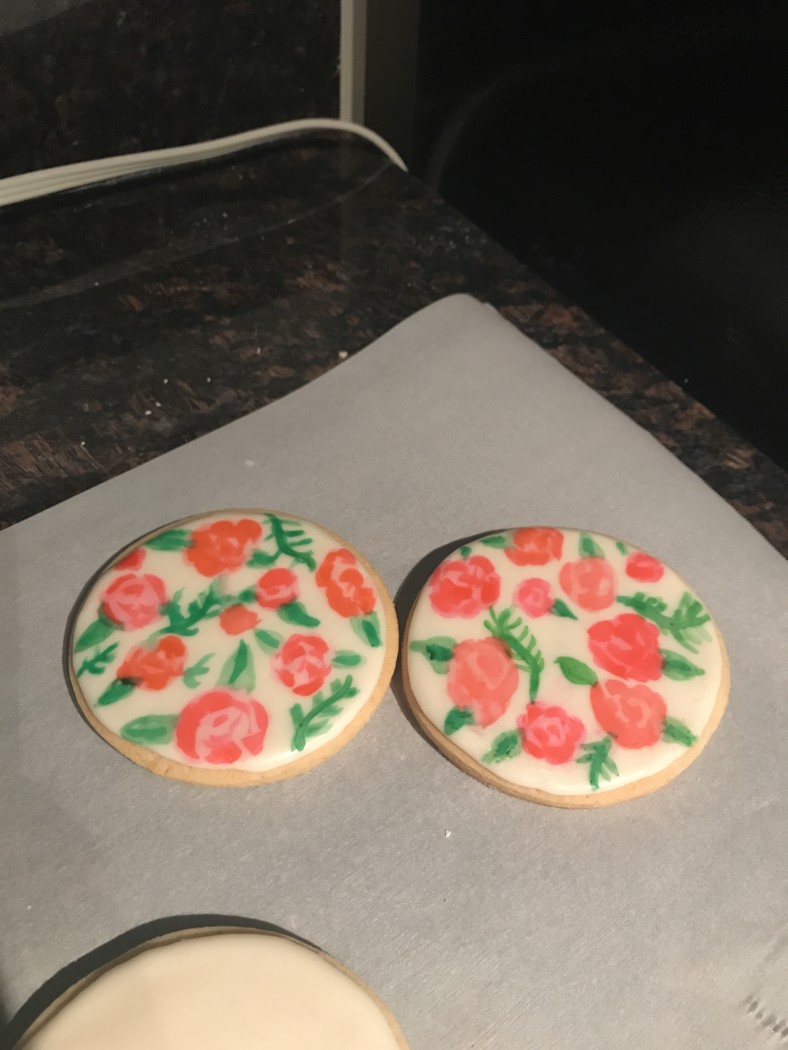 Favorite Accounts
Just a list of some of my favorite cookie decorating accounts – if you are into this stuff as much as I am, their videos and their work are full of inspiration!
Doughmestic Housewife
Cacey's Cakery
Sweet Ambs
Apologies for the overload of info and pics – but, if anyone has any specific questions on literally anything about the decorating process, just let me know! I am far from an expert, but I have tried a lot of things so I can at least put you in the right direction. Happy baking!
xx